Is Flash Flooding Less Damaging and Disruptive Than Other Kinds of Flooding in Mount Kisco?
4/26/2020 (Permalink)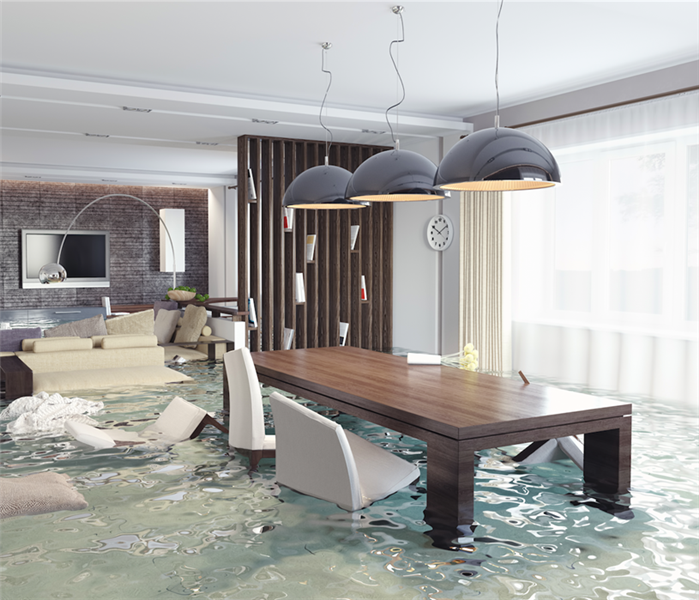 Regardless of the room affected, flooding can quickly overwhelm your home. Contact SERVPRO for effective remediation efforts immediately after damage.
No Matter What Caused the Flood That Damaged Your Mount Kisco Home SERVPRO Has an Effective Solution
There are five major types of flooding, and they each can cause significant structural damage in Mount Kisco.
What Is a Flash Flood?
It is defined as a torrential rainfall or a rapid thaw of snowpack that affects a small area with little or no notice. The flooding can be significant, incapacitating and moving large objects like vehicles, rocks, and trees and driving muck, silt, and dirt into a home's basement.
What Is a River Flood?
It is characterized by a gradual overflow of river banks by snowmelt and heavy rains, usually with a fair amount of notice. Homes near the waterway can be impacted by lower-level flooding in Mount Kisco.
What Is a Pluvial Flood?
This flooding occurs after significant rainfall, where the ground cannot absorb the water. Storms that "train" one after another over a short period are examples. Water can seep through foundations, causing damage.
What Is an Urban Flood?
Often called a flash flood, it is also like a pluvial flood because the sudden load of heavy rain cannot drain through overwhelmed sewer systems. Pavement is not able to absorb the water like soil can, funneling the rush of water into structures through street and sidewalk-level doors and windows.
What Is a Coastal Flood?
A phenomenon of seaside or large lake areas, a coastal flood is where strong winds and high tides force ocean or lake waters inland, flooding low lying areas and homes.
How Should I Respond to Flooding of Any Kind in My Home?
Mount Kisco flood damage is most likely due to flash or pluvial flooding. Spring and summer are times when we can experience the torrential downpours that swiftly flow or seep into our homes. The timing of the flooding will be random, but your response can have a proactive component.
What Are Some Preparations I Can Make to Minimize a Flood's Impact?
Inspection of Gutters and Downspouts
Making sure that heavy rains flow off your roof and deposit at least ten feet away from the foundation requires:
Unclogged gutters
Free-flowing downspouts with extensions that direct water into the yard
Ensuring Proper Slope Away from Foundations
The ground immediately around your foundation should slope down to funnel water away.
Inspection of Foundation Soundness
Check foundations for cracks and missing mortar. Windows and doors in walkouts must be in good condition.
Storing Items Away from Potentially Flooded Spaces
If, like many homeowners, you use your basement or lowest level for storage, consider moving vulnerable items to a higher space in your home. Waterproof containers can help, as well.
Elevate Appliances and Systems
Utility rooms contain laundry machines, water heaters, and HVAC equipment. Consider placing this crucial equipment up on blocks or other supports above flood lines.
Install a Sump Pump
A sump pump operates when excess water drains into its "pit," suctioning the fluids out through a hose that exits the basement and drains an appropriate distance away from the foundation.
How Can a Professional Flood Damage Recovery Company Help if My Basement or Lowest Level Floods Despite Proaction?
Because the torrent of water and debris can overwhelm your most careful preparations, SERVPRO offers emergency, mitigation, and remediation services. We're Faster To Any Size Disaster, arriving quickly after your call for assistance.
What Can You Expect from Our Crew?
Our team arrives in service vehicles stocked with extraction and structural drying equipment to avoid any delays in our response. We also have shovels and other mud, sand, and silt removal tools as extraction equipment works most efficiently when our crews reduce solid debris.
Safety Inspection
We check for hazards and consider shutting down power until the water level lowers. Because the flood waters contain contaminants picked up overland, our employees wear appropriate personal protective equipment (PPE) and contain the fluids for lawful disposal.
Emergency Services
Employees set up submersible pumps for water deeper than two inches. Our truck-mounted extractors use wands to suction up the rest of the standing water, using onboard power if necessary when electricity is still out.
Moisture Detection and Monitoring
We scan for hidden and trapped caches of water and moisture absorbed into structural components. This is critical to permanent recovery as lingering moisture can destroy building materials and contribute to mold damage.
Strategic Demolition for Thorough Extraction and Efficient Drying
Our technicians might drill holes or make flood cuts to access the leftover water for extraction. Opening the spaces also improves drying efforts, allowing warm air movement in wet cavities and permitting dehumidifiers to reach and capture water vapor.
Wrap Around Build Back Services
When we cut drywall or drill into cinder blocks or mortar joints, we need repair and rebuilding options to complete restoration. We can access reconstruction resources in house or through our affiliated construction partner.
SERVPRO of Northern Westchester County has robust solutions for every flood damage challenge you face. Call us at (914) 241-8100 for a rapid response and plan that transforms a watery, contaminated mess to "Like it never even happened."