Mount Kisco Business Owners are Asking, How Can I Clean Better?
5/15/2020 (Permalink)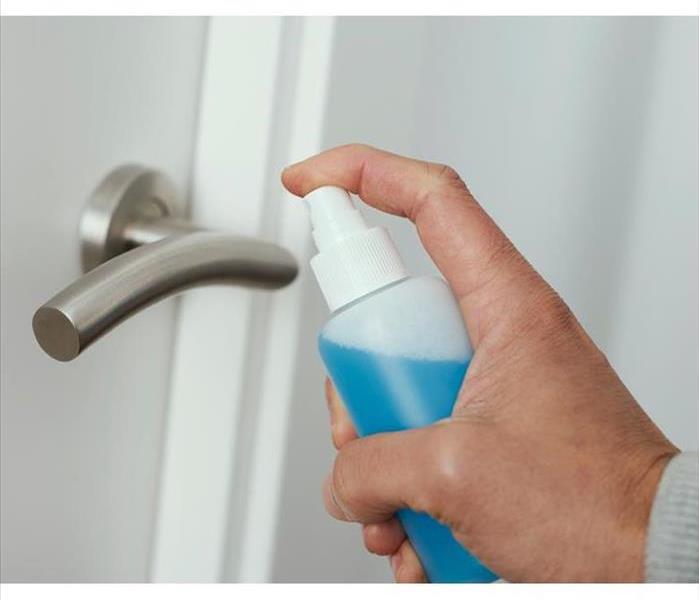 SERVPRO Applies Disinfectants to Door Knobs as well as entire commercial enterprises in the Mount Kisco area
Essential service businesses in Mount Kisco that are open are working hard on maintaining good sanitation. However, many owners wonder if they are doing enough.
Different Types of Businesses Face Unique Cleaning Challenges
Our SERVPRO team has effective disinfection and cleaning practices to help any Mount Kisco business, which includes helping restaurant owners who face unique challenges. SERVPRO of Northern Westchester County is experienced in providing decontamination services at a variety of unique locations. For example, our crews are veterans at the cleanup of sewage backups and mold contamination in occupied and unoccupied spaces with exposure to a variety of pathogens. Our team members clean at senior living communities and foodservice locations frequently.
Our crews follow CDC guidelines for preventative cleaning during this virus pandemic. We can also work with and empower in-house employees to do achieve better results, or we can perform separate projects by our own SERVPRO team.
Distinct cleaning strategies for specific businesses
Cleaning protocol for open or closed locations
Proper cleaning products and procedures for each specific surface
Flexible service hours
Advice and consultation
SERVPRO of Northern Westchester County at (914) 241-8100.
Disclaimer: Advice from the medical and scientific community regarding how to deal with the coronavirus is based on present knowledge, which is subject to change as the situation continues to develop. There can be no assurance that disinfectants alone will be adequate to fully eliminate the virus. We are not physicians or infectious disease professionals. Consult your medical professionals for individual medical advice.