Learn How to Start Flood Damage Remediation in Bedford
5/5/2022 (Permalink)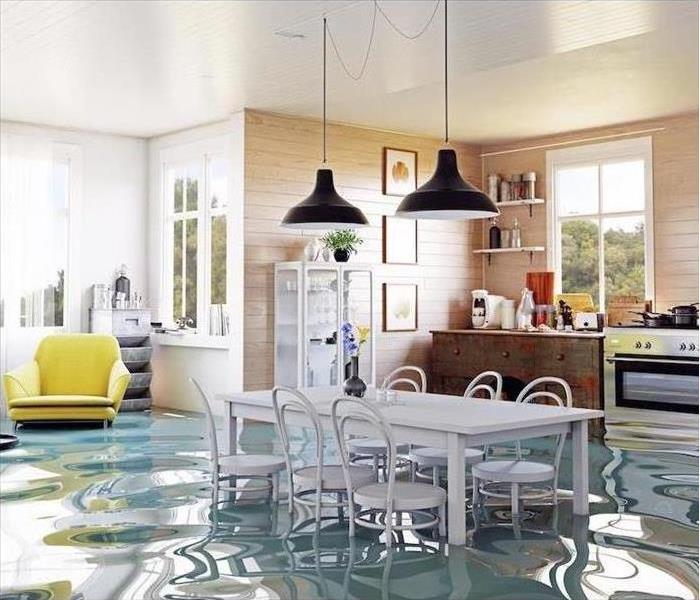 Regardless of Which Room Flooding Affects, SERVPRO is There For You With Water Removal and Remediation Services. Call Right Away.
Tips for Protecting Your Bedford Home From Mold After Flood Damage
Flood water entering your home is alarming, and the flood damage left behind needs prompt action to stop more significant issues from developing.
To ensure mold is not also a problem on top of flood damage, Bedford homeowners can take specific actions to prevent secondary losses from occurring. First and foremost, bring in a professional restoration services company and do not come into contact with groundwater or remove items from the home that have had contact.
Remove Paper Products That Matter from The Home
Mold loves to consume wood and wood products, and in high-humidity situations, papers, books, and magazines frequently become hosts to mold colonies. Remove artwork and photos from walls to a dry, low humidity space, or SERVPRO can arrange a Pack-Out to a secure location until the completion of cleanup efforts.
Water Extraction Assists With Faster Drying
Since mold spores already exist naturally both indoors and outdoors, they are just basically floating around looking for optimum conditions to germinate. SERVPRO technicians use their array of moisture detection equipment to scope the home and identify all areas of excessive moisture, so they remove as much as possible before drying the property.
Drying Assists in the Elimination of Mold
After flooding happens in a property, if the humidity levels remain above 50% indoors, mold infestations set up home rapidly and begin to spread. Mold cannot exist without adequate moisture levels, so the technicians set drying goals and ensure they are met to inhibit mold further.
Cleaning With Antimicrobials Helps to Diminish Mold
SERVPRO uses professional-grade cleaners and antimicrobials to eradicate bacteria and mold from surfaces, leaving them disinfected. In cases where technicians previously performed abatement of mold colonies during flood mitigation, it is standard practice to treat the surfaces with antimicrobial sealants to prohibit the return.
SERVPRO of Northern Westchester County at (914) 241-8100 is ready to assist property owners with any size flood damage in their homes. Our certified technicians arrive quickly and work to restore your home to its pre-flood condition, "Like it never even happened."