Commercial Water Damage In Your Mount Kisco Restaurant
3/30/2022 (Permalink)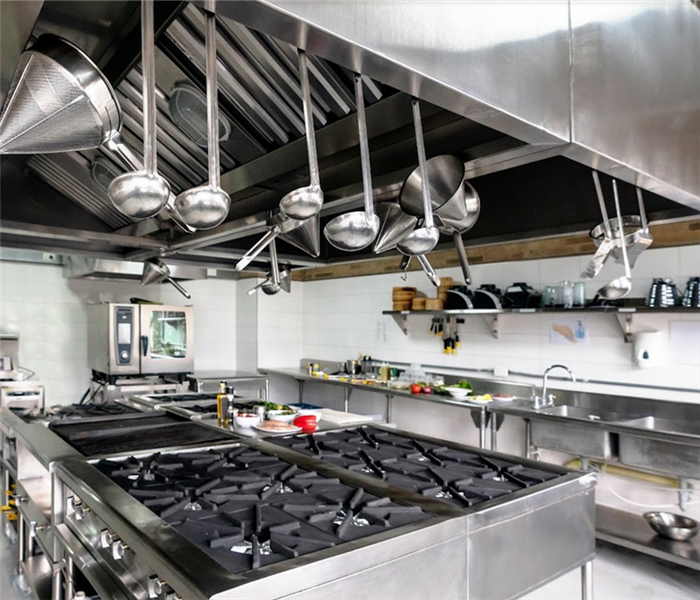 When your commercial kitchen is facing water damage, you need help fast. Contact our certified SERVPRO water damage remediation team. We are here.
Stopping Commercial Water Damage in a Mount Kisco Restaurant
Water damage is a pain for any business to endure. Whether it is a pipe leak in the kitchen or overflowing fixtures in bathrooms, it can be overwhelming for small business owners to have to tackle this type of damage. Fortunately, there is a team that can help.
If your Mount Kisco restaurant needs commercial water damage mitigation from experienced professionals, the experts at SERVPRO have extensive experience in cleaning and restoring restaurants to their preloss condition. Whether the source of the leak is in your kitchen, storage area, bathrooms, or front of the house, SERVPRO tools and techniques are designed to meet local, state, and federal sanitation requirements for commercial spaces.
Flooring Requirements for Commercial Restrooms
Keep it low maintenance. Consider a surface that is both cost-effective and easy to maintain. A quality vinyl floor, for example, does not require polish or wax. Better still, many vinyl installations can be implemented without grout lines, which minimizes the risk of water penetrating structural materials underneath the floor.
Water resistance. Restroom flooring should be nonporous and water-resistant. Some flooring solutions run the risk of delamination, which can affect the ability of tiles to adhere to the floor. In the event of a water damage issue, replacement may be more cost-effective and sanitary than repair depending on the disaster.
Scratch and scuff resistance. Many commercial restroom floors are installed with a protective polyurethane topcoat or similar vapor barrier. While this is excellent for commercial purposes, it can sometimes present unique challenges for restoration, as water often seeps into wall trim or counters. However, this can be combated using water-resistant paints and other precautions.
How SERVPRO Can Help
When working with a commercial restroom, one of the most pressing concerns is maintaining sanitary conditions. SERVPRO takes health and safety very seriously, and only uses OSHA-approved, EPA-registered antimicrobials during the disinfection process.
SERVPRO can utilize mops, squeegees, and extraction wands to eliminate the presence of standing water. If the damage is caused by a pipe leak or clean toilet overflow, technicians can prepare the space for drying with air movers and dehumidifiers. Technicians can use rovers to address water-affected carpet outside of the restroom.
SERVPRO of Northern Westchester County can ensure that your business looks, "Like it never even happened." Call (914) 241-8100 any time of the day or night for emergency response cleanup.