What Do I Do When Everything in My Mount Kisco House Is Wet?
5/23/2020 (Permalink)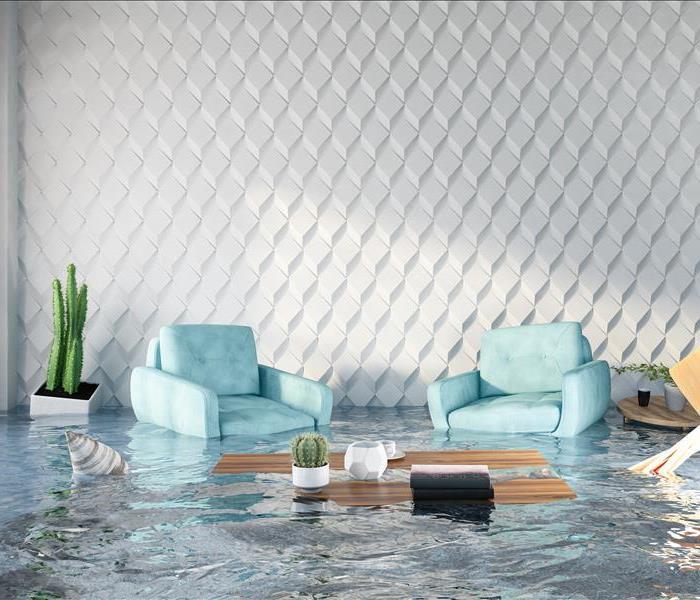 Flood damage can damage the structure and contents of your home. Call SERVPRO 24/7 for effective services.
We Handle All Aspects of Mount Kisco Flood Damage Recovery: Why SERVPRO Is an Industry Leader
When you see pictures of flood remediation in Mount Kisco, often the rooms depicted are empty. Carpet is pulled aside, and water removal and drying equipment is scattered everywhere. Something is missing -- the furniture, the dishes, the books, the toys, the clothes, the electronics. The list goes on and on. With the rooms cleared, you can feel pretty confident with the pumps, extractors, air movers, and dehumidifiers rolling off our signature green trucks that your home's structure has more than a fighting chance to make it "Like it never even happened."
But What About the Things that Make My House My Home?
The flood damage in your Mount Kisco home is all distressing. Still, the sadness you feel when you fear that many of your and your family's ordinary but comforting goods and most beloved treasures might be destined to the scrapheap is heartbreaking. As the events unfold over the days following the storm, you learn why our production facility might be the workshop where your hopes and dreams for the restoration of these not so little things come true.
What Is the Procedure for Moving Items Out of My Flooded Home?
The stress and chaos of the flooding in Mount Kisco can have everything and everybody inside your house in an uproar, why SERVPRO developed a meticulous protocol if you choose to move out your possessions. We keep both you and your insurance carrier informed as we manage the packing, transporting, evaluating, cleaning, drying, and disinfection of the articles you entrust to us.
I Am Overwhelmed -- Who Does the Packing?
Our crews do the work, wrapping large items with materials to protect them, and gathering smaller possessions into boxes for transport. Items are listed, photographed, and tagged to keep them safe and straightforward to track. We use the Contents Claim Inventory Service (CCIS) for documentation and security purposes. This unique service allows us to generate barcode labels as an additional level of certainty as we sort through dozens to thousands of items, depending on your circumstances.
Where Do You Deliver My Possessions?
If you have a space on your property that is spacious, secure, and dry enough to contain the wet items, we might move all or some of them there for staging and evaluation. Articles that are severely damaged might take a direct route to our production facility. Our contents processing technicians possess many years of experience, a wealth of training and knowledge, and access to many cutting edge interventions and resources to return your possessions to their previous function and appearance.
What Kinds of Equipment Do We Use at Our Production Facility?
Why Do We Have Immersion and Ultrasonic Tanks?
Solid objects with intricate detailing benefit from soaking in solutions made of proprietary cleaners and water or solvents carefully concocted by our dedicated technicians. Embedded soil loosens and dissolves, ready for removal by cloths or brushes. Tough soiling responds to ultrasonic treatment, using sound waves to create intense heat and agitation to dislodge dirt and grime. This process must be planned and monitored by certified technicians.
What Is the Purpose of Small Drying Chambers?
Furniture and other large items are challenging to dry fast and thoroughly enough to prevent secondary mold and other damage. We create contained spaces using heavy-duty plastic where we can manipulate temperature, airflow, and humidity to facilitate the mechanical drying done with handheld extractors. Electronics also dry out more efficiently in a small, closed drying space.
How Can We Make Sure Documents and Other Paper Dry Out?
Freeze-drying is a method used successfully to remove water from books, photos, and other paperwork. It utilizes the process of sublimation, which permits the water to transition from frozen inside the paper to a vapor without the intervening, and damaging, liquid state.
Are Clothes, Linens, and Window Coverings Cleaned and Dried by SERVPRO?
Perhaps your laundry room is submerged under flood waters. Quite probably, the sheer volume of textiles and other soft items needing cleaning and drying is immense, and you need help managing it. We suggest you sort out clothing you need quickly from items that can be stored to guide us while running the loads through our industrial washers and dryers. We also can access dry cleaning for fabrics that are not typically washable without shrinkage or dye bleeding.
Who Reunites My Contents with My Home?
We monitor the progress of the water removal and structural drying in your home as we work with your contents; all are part of the same multi-phase project. Our managers confer and schedule a pack-back of your possessions, permitting a return to your everyday life.

A fortuitous combination of skilled contents technicians, evolving restoration technology, integrity, and innovative digital security measures is why SERVPRO of Northern Westchester County can deliver your possessions back to your cleaned, dried, and fully recovered home fast. Call us at (914) 241-8100 to discuss your options as soon as practicable after a flooding loss.