We Discuss The Different Ways Flood Damage Can Affect Your Bedford Home
3/25/2022 (Permalink)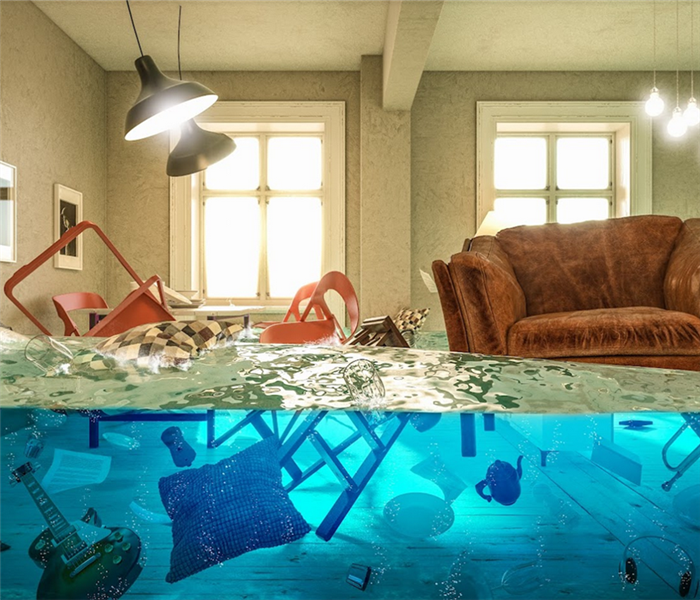 Flooding can quickly damage both the contents and structure of your home. Call our experienced flood damage remediation team for services.
Different Ways Flood Damage Affects Bedford Homeowners
Flooding can happen at any time, including when least expected, such as dry seasons. Like any other Bedford homeowner, such an incident can affect you in many ways. Seeking assistance from a professional flood damage restorer is one way to cope with the loss.
Disruption of normal activities
One significant effect of flood damage incidents in Bedford is disrupting daily routines. Depending on the level of flooding, it might not be possible to reenter the affected property, or at least it limits access to some rooms forcing you to eat out or seek alternative accommodation until the loss is resolved. Although we might not prevent the problem, our SERVPRO technicians can work faster to reduce the time your property remains inaccessible. We have sophisticated cleaning equipment to deal with soiling, different types of water extractors to speed up water removal, and enough human resources to tear down and rebuild affected areas.
Creating Uncertainty
Although you might expect the losses that occur after flooding, the uncertainty that such incidents create can be unbearable. The uncertainty stems from many factors, including the fear that the flooding might compromise the building's structural integrity or that long-term issues such as mold might keep recurring after the restoration process. Part of the work our SERVPRO IICRC-certified technicians do is to reassure the client that the home can regain its preloss condition. We rely on our experiences and the advanced training our technicians receive to gauge the likely outcome of an incident helping reduce any feelings of uncertainty you might have.
Financial losses
Flooding damages many items ranging from furniture, wall materials such as drywall and insulation to floor coverings such as carpets. Replacing all the affected items or mishandling the restoration process can lead to high costs. When our SERVPRO technicians perform the restoration, we take various steps that might help reduce the financial losses incurred. Steps such as properly coordinated content move-outs help reduce the contents lost.
Combating the effects of flood damage is challenging. Call SERVPRO of Northern Westchester County at (914) 241-8100 to help deal with any outcome, "Like it never even happened."