How Do I Minimize Inconveniences After Fire Damage At My Yorktown Heights Home?
7/25/2020 (Permalink)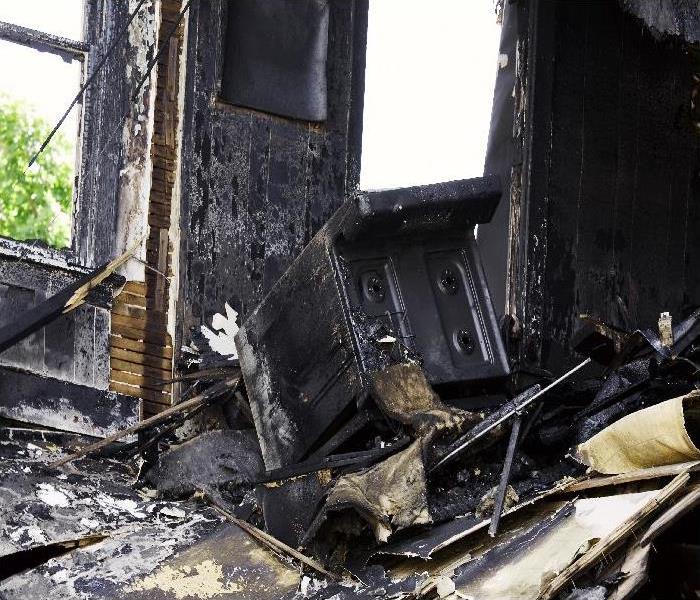 Call SERVPRO of Northern Westchester County at (914) 241-8100 to help. We're Faster to Any Size Disaster.
SERVPRO Helps Evaluate the Level of Damage To The Yorktown Heights Property Determining The Best Ways to Handle Renovation
Fire can start any time at your property, sparked by unattended cooking or electrical faults, among other things. When such an incident happens, you have to worry about the repair costs as well as the inconveniences that you have to face as you renovate. Highly trained crews from SERVPRO quickly respond when notified about fire incidents in Yorktown Heights properties and can help find ways to minimize inconveniences.
What typical inconveniences develop after fire damage in Yorktown Heights?
• Heavy soiling leaves items unusable
• Discomfort due to smoky or particulate-filled air
• Unexpected openings such as shattered windows

Although the combustion process manifests physically, it is a chemical process that consumes materials and also produces various byproducts, which spread throughout the property. For instance, smoke is driven by convectional currents to colder areas within the house depositing soot on open surfaces and enclosed spaces. In the aftermath of a fire incident in Yorktown Heights, you might need to seek alternative accommodation since it might be dangerous or uncomfortable to stay in the damaged house. Venturing into the property can also cause additional damages, such as spreading residues to unaffected areas.
Are there ways to reduce the inconvenience?
Each incident presents different circumstances depending on the intensity of the fire loss, layout, and size of the property. However, some actions, especially when taken in time, can help manage the inconveniences you face. Our SERVPRO crews help by taking actions such as:
• Expediting restoration processes
• Isolating affected rooms the rest of the property
• Moving items

Refurbishing a house affected by fire takes several steps. Even after a minor incident, there are surfaces to clean and contents to dry or move around, so it takes time. For the major incidents, the workload increases because steps such as demolition and reconstruction of damaged areas are necessary. Our crews help expedite restoration in different ways. For instance, we have more people and equipment to handle different restoration processes. Our extensive experience handling fire incidents helps us gain a better understanding of the loss at your property, thus eliminating trial and error approaches that waste time. For instance, we can evaluate items faster and determine what is salvageable and what requires immediate removal for disposal.
Is it necessary to move all items when restoring fire damage?
Moving items can help minimize the inconveniences by removing obstacles around the work area or by increasing the space available to perform various restoration processes. However, moving items is also an inconvenience. Some items, such as furniture or appliances, are heavy and bulky, while others are fragile.

Our SERVPRO technicians help assess the situation and decide whether the movement is necessary. We also determine whether to move items to offsite storage or within one section of the property. In some cases, we also bring temporary storage units to your property to help hold items safely as we perform the restoration. We have tools such as air sleds or dollies, and our crews are trained on the best ways to handle heavy items when transferring them, thus simplifying the movement process.
Can we continue occupying the property during the renovation?
Seeking an alternative place to stay as the fire damage in your house is fixed is perhaps one of the greatest inconveniences that you loathe due to reasons such as:
• The extra cost of alternate accommodation
• Safety of the damaged property
• Disruption of your daily routines

Moving out of the damaged property even after smaller fire incidents is a practical step for your safety and other reasons. Fires leave harmful aerosols and soot in the air, and inhalation can lead to respiratory issues. Structure issues can also develop due to deep charring of wall or ceiling frames, making it risky to continue occupying the house.

Our SERVPRO technicians can help you deal with the issues related to moving or occupying the house during renovation. If your insurance adjuster determines that you can continue occupying the house, we help perform emergency cleaning to make the property 'livable' during the restoration period. We clean utility areas such as the kitchen and bathroom. We can also seal off the affected area from the rest of the house. In case you seek alternative accommodation, we board up the property to secure it from weather elements and vandals, giving you peace of mind.

Fixing a fire-damaged property is never convenient, but assistance from a professional restorer can help lighten the load when restoring your Mount Kisco, Bedford, or Armonk home. Call SERVPRO of Northern Westchester County at (914) 241-8100 to help. We're Faster to Any Size Disaster.