Detailed Mold Damage Repair You Can Trust in Mount Kisco
3/22/2023 (Permalink)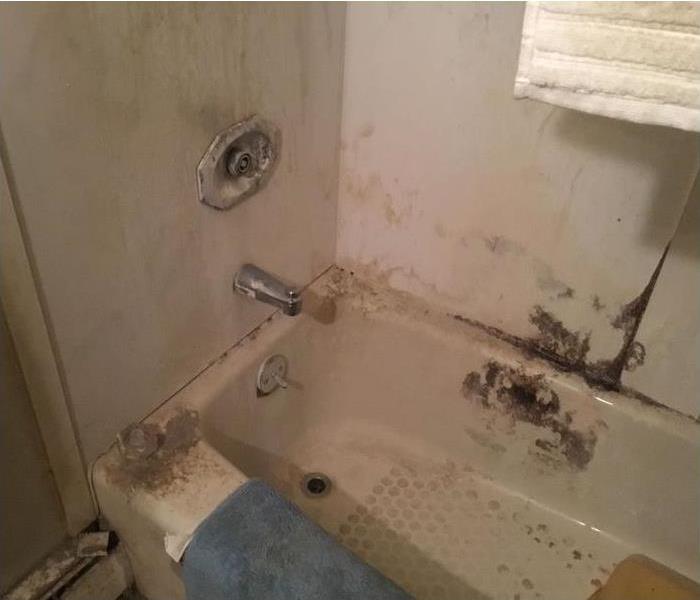 Spot mold damage in your Mount Kisco home? Contact our SERVPRO team to determine the cause and remediate the damage.
Call SERVPRO in Mount Kisco When You Require Mold Damage Assistance
Did you know that many property owners have mold developing in their homes without realizing it? Many mold infestations go undetected for a while, leading to costly damage to a home. Should you detect musty odors or have questions about areas that seem like mold development, calling SERVPRO to your Mount Kisco property is best. We have the proper experience, tools, and training to safely handle mold remediation to give you added peace of mind, making your home Certified: SERVPRO Cleaned.
Why not tackle mold damage in Mount Kisco as a DIY project? It would be best never to spray areas with bleach or other cleaners whenever you suspect mold development. It is also vital that you never wipe, brush or disturb mold as it can dislodge the spores and cause them to become airborne. Instead, our team at SERVPRO can come in to inspect areas where mold is suspected, address the moisture issue that brought it on, and handle safe, effective mold cleanup.
Know the Signs of Possible Mold Development
Mold is everywhere around us, in the air we breathe and on countless surfaces. However, you may not think you have a mold issue unless you can see it with your own eyes. You need to know that:
Some mold colonies present visible signs that you may see inside cabinets, in the back of a closet, or the bathroom.
You may only have your olfactory senses to count on in some cases. Overwhelming musty and foul odors could be telling you that mold is present somewhere in your home.
Our IICRC-certified technicians at SERVPRO know how to identify mold growth and select the best processes for cleaning.
How Does Mold Cleanup Start?
Once we arrive at your property, we simultaneously locate areas where mold seems to be developing and address the cause of excessive moisture. Failing to fix a leaking pipe or pulling up moisture from a water spill can open the door for mold to come back. We work to determine the best course of action based on the type of mold present, the area it is located, and the severity of the situation. Structural elements and building materials also get assessed to determine their safety and overall integrity.
Disposal and Cleaning Commence
After containment barriers like negative air pressure and poly sheeting get put into place, the work begins. Any materials or contents deemed unsalvageable due to mold infestation get removed from your Mount Kisco home and disposed of according to local guidelines. Surface cleaning and vacuums are usually the ideal solutions, but there are cases where microbes are rooted deeply, and specialized methods are necessary. Some of the options available to us will include things like:
Surface cleaning with EPA-registered antimicrobials
Sanding
Soda blasting
Controlled demolition
Drying and Dehumidification are Crucial for Mold-Related Projects
We do whatever is possible to dry your interior where moisture has become an issue. Our dehumidification equipment allows us to pull vapors from their air, while Injectidry and other drying equipment will enable us to push air through cavities where moisture may be lurking. We adjust our equipment and add or remove pieces as needed to help us achieve our drying goals.
You Deserve To Have Your Home "Like it never even happened."
Before we finish our mold remediation and cleanup, all damage gets repaired with the help of trusted local contractors. Drywall gets replaced, new carpet installed, and other elements to bring your home to pre-mold condition. Everything gets finished with total cleaning, sanitizing, and deodorization so that your interior is fresh and ready to enjoy once again.
Call SERVPRO of Northern Westchester County when you require assistance with mold damage. You can reach us by dialing (914) 241-8100, and we can send a crew out as soon as possible.